PRODUCTS
Line Interactive UPS
Online 1Ph / 1Ph UPS
Online 3Ph / 1Ph UPS
Online 3Ph / 3Ph UPS
Modular UPS
Hybrid UPS
Solar Converter
Solar Direct Drive
Solar Panel
Solar Inverter
HYBRID UPS
10kVA - 15kVA - 20kVA - 30kVA - 40kVA - 60kVA - 80kVA - 100kVA - 120kVA - 160kVA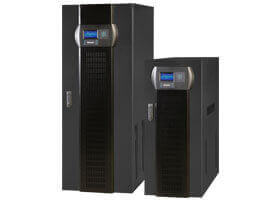 The main feature of the Hybrid UPS systems are that they are capable of generating electricity from Solar, Batteries, Grid or Emergency Generator, in a controlled manner.

• Uniterruptible power by solar energy, grid and battery
• Return of investment
• MPPT Algorithm
• Solar energy storage
• Intelligent controller
• 100% stabilized output power
• Emengency generator


• The new hybrid technology automatically chooses the most economical and ecological power solution to the customer.
• Primarily works from solar energy to return your investment.
• MPPT algorithm provides maximum energy available in the PV panels to the load connected at the output of the solar converter. Solar Converter arranges power redundancy automatically.
• Battery bank stores the unused clean energy and protects you against power failure-blackout.
• The intelligent controller offers real time status information. The different energy flows can be setup according weather data and/or customer profiles.
• As a conventional on-line UPS, it always offers full protection against any kind of power problem without any internal switching.
• The hybrid system combines solar energy, grid, battery or emergency generator.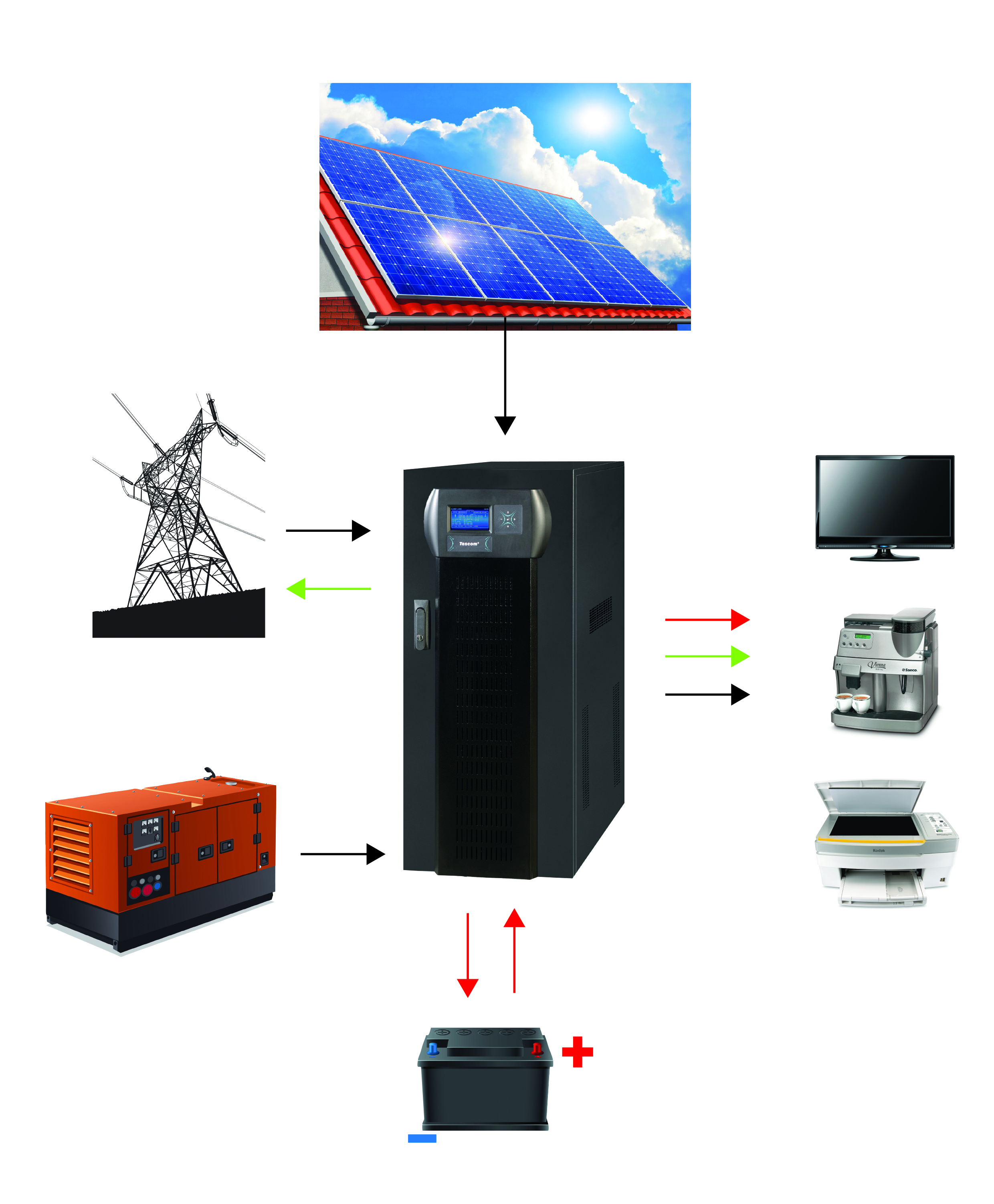 Solar System Application
The following gıidelines must be followed in order to ensure the maximum benefit from solar system;
• The most important part of the solar system is the photovoltaic panel! Therefore a Tier-1 class polycrystalline solar panel would be a good choice for long term solar energy harvesting.
• Check the azimuth angle of the PV installation area. Azimuth angle should to be zero to maximize the solar energy gained from the sun.
• The tilt angle must be checked and that should be set to local optimum tilt angle. That value is about 30 degree for Turkey and Europe.
• Installation and electrical works must be performed by expert teams.
Normalized productions: Nominal power 10.00 kWp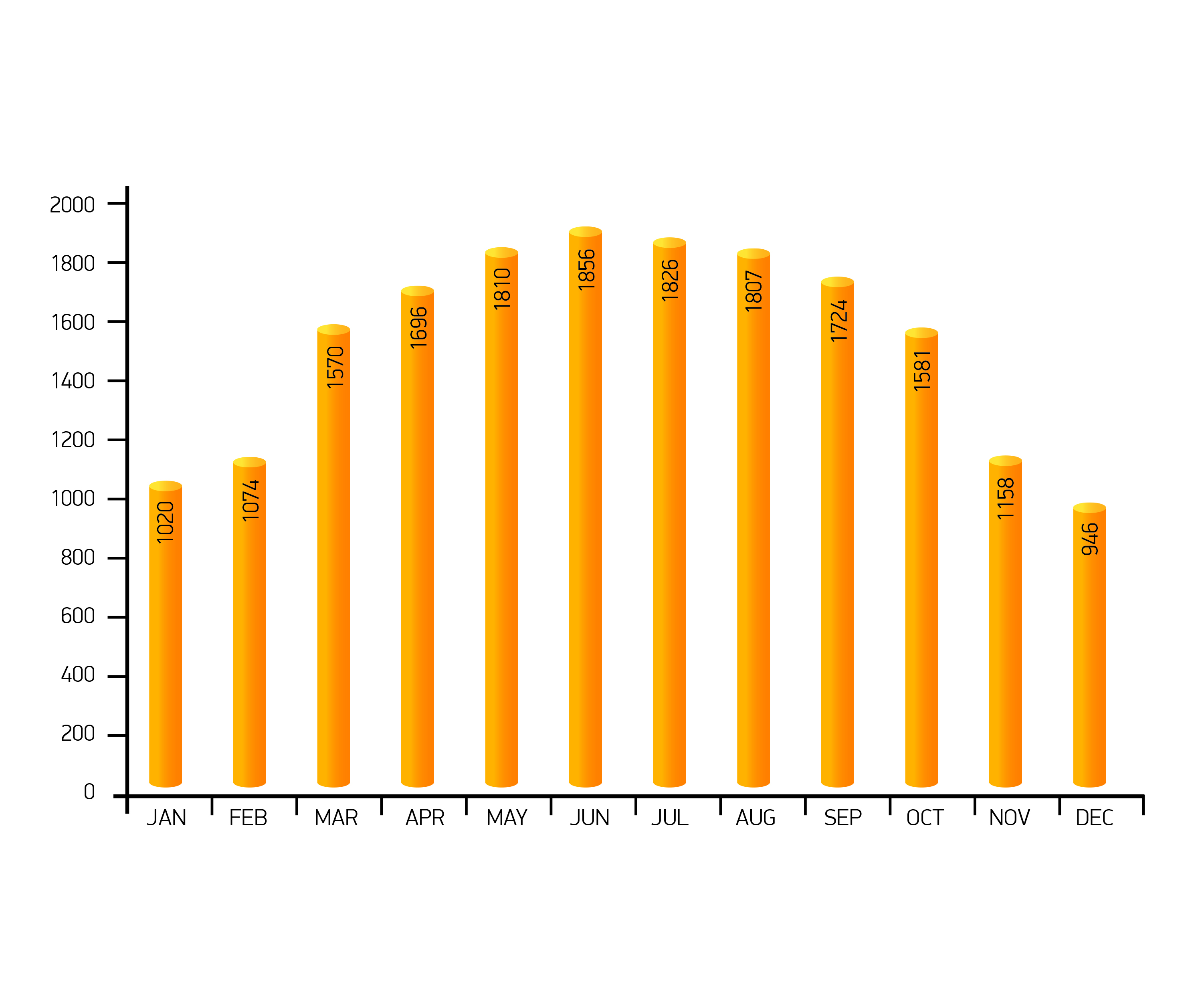 10 kW PV SYSTEM SIMULATION RESULTS

GlobHor kWh/m²

T Amb                °C

Globinc kWh/m²

GlobEff kWh/m²

Earray             MWh

E_Grid
MWh

EffArrR
%

EffSysR
%

January

71.6

9.50

114.6

108.1

1.042

1.020

13.89

13.60

February

87.6

9.70

122.0

115.1

1.097

1.074

13.74

13.45

March

154.7

12.10

194.5

183.8

1.726

1.691

13.55

13.28

April

183.9

15.40

199.8

188.1

1.732

1.696

13.25

12.97

May

230.0

19.80

227.0

213.8

1.921

1.881

12.93

12.66

June

245.1

24.20

229.4

215.9

1.896

1.856

12.62

12.35

July

238.7

27.20

229.0

215.6

1.865

1.826

12.44

12.18

August

216.1

27.50

226.3

213.5

1.845

1.807

12.45

12.19

September

174.3

23.60

211.1

199.7

1.760

1.724

12.73

12.48

October

133.3

18.70

187.7

177.9

1.613

1.581

13.12

12.86

November

84.6

14.80

133.3

125.9

1.181

1.158

13.54

13.27

December

63.2

10.80

106.6

100.6

0.966

0.946

13.84

13.55

YEAR

1883.2

17.82

2181.3

2058.1

18.645

18.260

13.06

12.79

The energy produced by months
Effective radiation by months
The Reality
Hybrid UPS




---
Grid Unavailable

In case of power failure the requested energy is coming from the solar panels and/or batteries. The backup time vary with the connected load and the power of panels/batteries.The backup time vary with the connected load and the power of panels/batteries.
Without solar energy, the load is directly supplied by the batteries.




---
Unavailability of grid, solar and battery group

Hybrid UPS system automatically starts the emergency generator when the solar energy, batteries and grid are unavailable.



THE POSSIBILITIES
Traditional UPS (DS300 Series)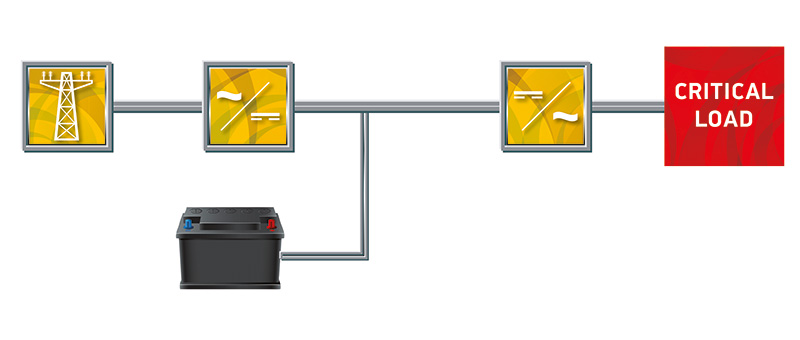 The connected load is powerded by our DS300 online double conversion UPS ith the latest tecnology. The energy comes from the grid or from the batteries in case of a power blackout.
HYBRID UPS (DS300HB Series)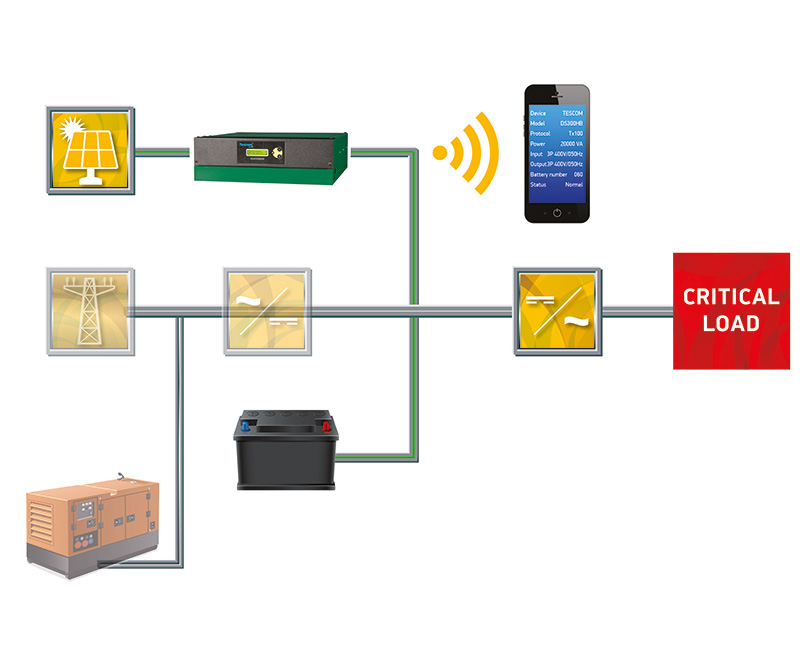 Hybrid ups senses the avability of solar power, grid power and the battery power for supping the connected loads using tne most economical and ecological combination of these energy sources. TGc series solar converter is connected to the DC bus of the Hybrid UPS and solar group is set as the primary energy source.
Diesel generator stars automatically in case of solar energy, grid and battery group unavailability. This feature will greatly simplify your life where there is no electrical network.
In addition to the hybrid operation, intelligent controller provides you "real time monitoring". That function is fully designed by Tescom and avilable for smart phones. All you need is an internet connection.
MODEL

DS310

DS315

DS320

DS330

DS340

DS360

DS380

DS3100

DS3120

DS3160

Power (kVA)

10

15

20

30

40

60

80

100

120

160

INPUT

Voltage

380/400 VAC 3 Phase + N + E  ± 20% (415 VAC +15%, - 25% optional)

Frequency

50Hz. / 60Hz. selectable, ± 5%

Power factor 

> 0.99 

(THDI) (*)

< 4%  

By-pass voltage

380/400 VAC 3 Phase + N , 4 Wires, ±10%

Voltage distortion

< 10%

Protection

Fuses, Voltage & Frequency tolerance, Input power limit, Phase sequency indicator

OUTPUT

Power (kW)

9

13,5

18

27

36

54

72

90

108

144

Power factor

0,9

Voltage 

380/400 VAC 3 Phase + N , ±1%   (415 VAC optional )

Frequency

50Hz. / 60Hz. selectable

Frequency tolerance

Line synchronized: ±2% / Free running: ±0,1% (adjustable)

Efficiency

up to 94%

Crest factor

3:1

Overload protection

100% - 125% load: 10 min,  125% - 150% load: 1 min, - >150% load: by pass

Other protections

Advanced short circuit, Voltage tolerance, DC balance, Regenerative load, Current limiting

THD (at 100% linear load)

< 3%

BATTERIES

Type

VRLA AGM / GEL / NiCd

Nominal voltage

± 360 VDC

Float / End of discharge voltage

± 405 VDC / ± 300 VDC

Battery cabinet

Internal

External

Battery ambient temperature

25ºC

Protections

3 level alarms, Battery fuses, Charging current limit, Temperature compensation (optional)

Automatic testing

Standard every 72 hours (adjustable)

GENERAL

Standards

EN62040-1, EN62040-2, EN62040-3

User interface

4 lines LCD panel, Mimic leds, 5 vector buttons, Buzzer, Optional TFT panel

Indicators

P-N voltage, P-P voltage, Current, Power, Crest Factor, Frequency, PF, Service Time

Advanced 

Self diagnostics, 3 maintenance time indicators, Calibration over RS232,operating hour meter

Communication

2xRS232 serial ports, 4 standard and 8 optional DRY contact alarm relays

Inputs

EPO input, Interactive battery panel input, Genset input

Genset kit

Standard (programmable)

Software

Standard T-Mon UPS Management Software (3 clients + 1 server management)

Alarm logging

Standard: with time & date 512 events

Protections

Power module over-temperature, Over current, Temperature high alarm

Temperature range

0ºC - 40ºC

Protection degree

IP20

Relative humidity 

90% max. (noncondensed) 

Altitude

< 1000m above sea level

Acoustic noise

< 57 dBA

< 62 dBA

< 64 dBA

< 68 dBA

Weight without batteries and converter (kg)

87

87

91

100

173

197

209

220

232

265

Dimensions (mm) HxWxD

to be announced

1440x515x855

rack cabinet might be needed

HYBRID CONTROLLER

Power

5/10 Kw (up to 10 units in parallel)

MPPT input

270-640 VDC

Input min/max Voc

200VDC / 750VDC

Efficiency

≥ 97%

Communication

RS232, 3 dry contacts, EPO, CAN bus, LCD graphic

Dimension HxPxL / weight

120x500x440 mm, 13kg (5kW), 150x150x440 mm, 17kg (10kW)

OPTIONS

Different input / output voltage

Please ask

Transformer

Galvanic isolation transformer at the input & output

Software

T-Mon Admin Multi UPS monitoring 10-50-100-200 clients, T-Mon Server 50-100-200 clients

Adaptors

SNMP, RS485, Remote monitoring panel, MODBUS (RS485 or TCP/IP),USB Alarm Logger, TCP/IP ,GSM/GPRS Modem, Comport multiplexer 

Parallel operation

up to 8

(*) Depending on input line conditions and power